Dear members of the Rabbinical Conference, dear members of Beth Din,
as a Jew who is not indifferent to the preservation of the Jewish Orthodox tradition, I would like to ask you to clarify the following situation, which is particularly close to my heart and directly affects the lives of many Jewish families.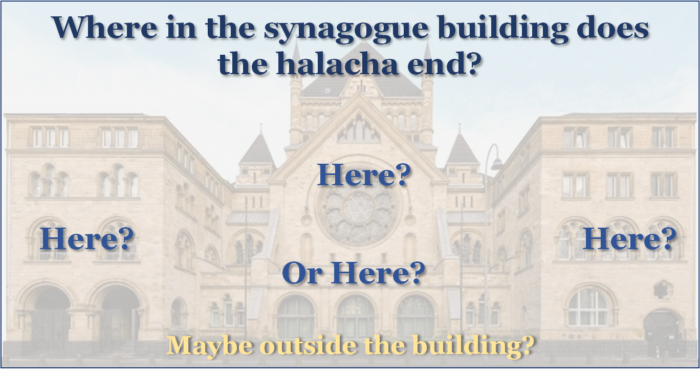 1. I know the answer to the following question, of course, but I would like to hear an official opinion:
Are Jews allowed to follow a German carnival tradition, to actively participate in it and to publicly take part in such celebrations as Jews?
Here is a brief explanation of what carnival is:
Carnival (also called Fasching) has its origins in the pagan traditions of Germanic tribes. The core of the festival is the end of winter. Thus, it is no different from the East Slavic pagan festival Masleniza. Both Carnival and Maslenitsa have become Christian festivals with the spread of Christianity, without losing their pagan elements. Carnival becomes a time of social fun and entertainment, wearing carnival costumes, dancing and heavy drinking. Carnival celebrations precede the beginning of a 40-day Christian Lent.
2. My second question consists of two parts.
In a building that was built as a synagogue, there are also other rooms (banquet hall, also called congregation hall). Does the entire building fall under halakhic law or only the prayer hall?
The opinion rabbis of the German Rabbinical Conference: "The rules of conduct at events in a Jewish community center differ depending on the rooms in the center in which they take place."
From the rabbis' answer, it became clear to me that in Germany it is halachically permissible for half-naked women to dance in a building that houses a synagogue. Are there any halachic rules at all for such buildings?
I have always assumed that the building of the synagogue is a holy place, which starts from the mezuzah at the door.
Technical information about the synagogue in Cologne, Roonstr. 50
The building was built as a synagogue and is publicly considered the only synagogue in Cologne. If you ask residents of Cologne about a synagogue, they will all point to the synagogue at Roonstr. 50. The community also has another building that is considered a community center.
A view from the outside: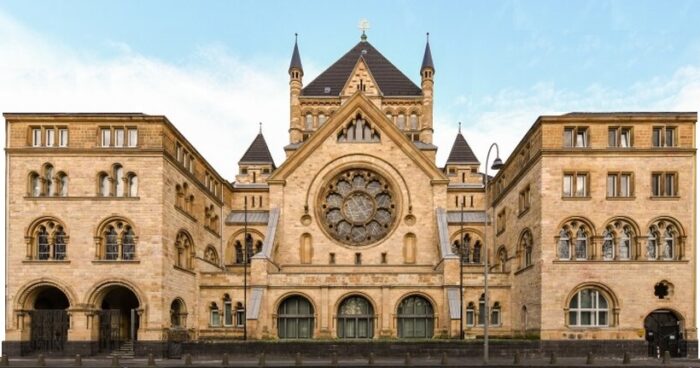 A view from inside, prayer hall: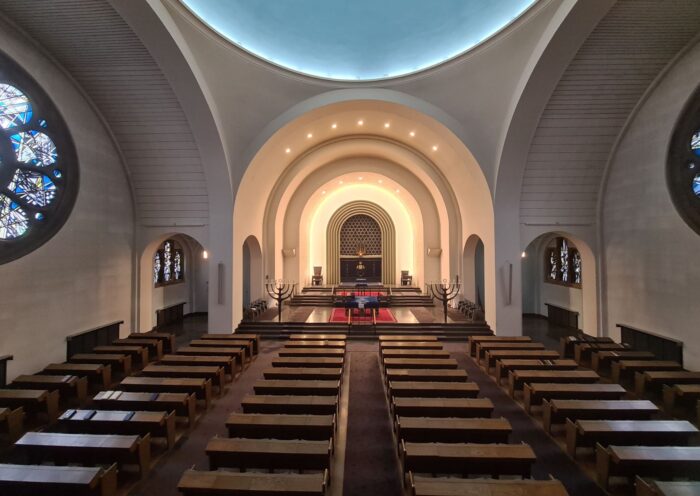 There is also a so-called banquet hall, where various events are held.
Carnival in the synagogue
Photo session in the prayer hall of the synagogue:   (Open photo in new window)
According to Rabbi Yechiel Brukner, there will be no more photo shoots in front of Aron Kodesh.
Also the vice president of the Central Council of German Jews, Abraham Lehrer is present and thus shows his full support: (Open photo in new window)
My questions at a glance
From a halachic point of view, is it permissible for a carnival event to be held in a building that is built as a synagogue and also contains a large festival hall?
Does the entire synagogue building fall under halachic law or only the prayer hall (synagogue)?
Are Jewish community members allowed to officially participate in ceremonies if they are pagan Christian traditions and have them take place in the community's buildings?
Isn't it the job of a rabbi and the Rabbinical Conference to ensure that events that are incompatible with Judaism are not allowed to take place in congregations?
Many thanks
Hoping for an answer
I remain with kind regards
Аnаtоli Кrеуmаn, 26.03.2023
Mein "falsches Bild" über Rabbiner
I was born and raised in a secular Ashkenazi Jewish family in Tashkent, Uzbekistan (USSR). The first rabbi I was able to meet was the rabbi from a book by Simcha Raz "A Tzaddik in Our Time: The Life of Rabbi Aryeh Levin", Rabbi Aryeh Levin ZT"L. I was impressed by his life and his true love for the Jewish people.  Rabbi Aryeh Levin embodied for me the concept of Ahavat Israel. The second rabbi who shaped my "false" image of rabbis was Rabbi Yitzchok Zilber ZT"L. Rabbi Zilber never stopped learning and teaching Torah and following halacha despite all the reprisals of the Soviet Union and even in prison.
Life is Germany disturbed my ideal image of a rabbi.
I don't want to offend anyone, but for the vast majority of rabbis in Germany, being a rabbi is a well-paid profession, not a calling. It is not about serving Hashem, following and defending the halacha, but being of assistance to the community board and interpreting the halacha so that it somehow fits. I can only hope that my letter will be read by rabbis who serve Hashem and not the board of any Jewish community.
P.S. My questions, as well as your answer (or silence) will be published on my site. In addition, I will forward copies of my letter to some Jewish organizations and media for openness on the critical questions.
---
Acknowledgment of receipt, 30.03.2023
Dear Mr. Кrеуmаn,
Enclosed I acknowledge receipt of your letter addressed to us.
The Standing Committee of the Conference of European Rabbis will carefully consider your request in detail after the coming Passover holiday, and we will send you a  comprehensive response shortly.
Until then, I wish you a happy Passover and remain with kind regards.
Sincerely yours,
Shorena Mikava
Legal counsel and special adviser of the board of patrons
After two months no answer received….
---
Friendly reminder after two months of waiting, on 30.05.2023
Good morning Mrs. Mikava,
In an e-mail I was promised a detailed and prompt answer to my questions. Unfortunately, this has not happened to date.
Can I still hope for an answer?
Many thanks
Kind regards and shalom
Аnаtоli Кrеуmаn
---
Answer, 30.03.2023
Dear Mr. Kreyman.
Learning about the situation you shared in the emails below, I would like to ask you to contact the chief Rabbi in Cologne,  Rabbi Brukner.
We believe this issue needs 1st to be discussed and examined with the Community and the local Chief Rabbi.
Thank you very much
Gady Gronich
---
Attachments: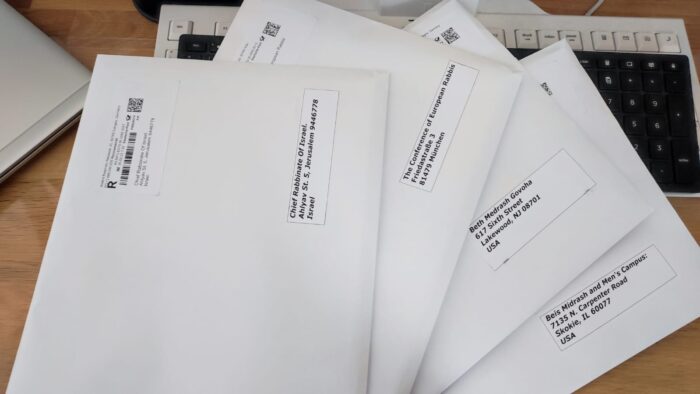 In addition to the Conference of European Rabbis* (CER), the folder with all the documents on the subject of Carnival was sent several organizations.
* also by e-mail to the following members of the CER:
Gady Gronich
Rabbi Moshe Lebel
Rabbi Aharon Shmuel Baskin
Daniel Kogan
Dr. Alexander Pesov
Rabbi Moshe Lewin
Chief Rabbi of Brussels Albert Guigui
I will endeavor to inform as many Jewish communities as possible about the carnival celebrations in the synagogue of the Cologne Synagogue Community.